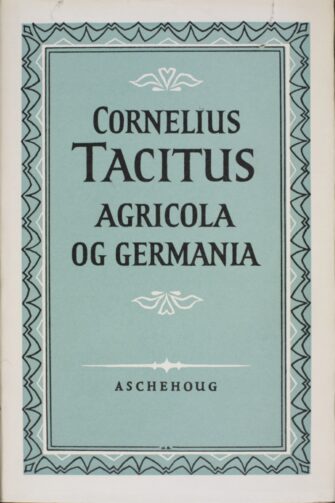 ANSVARLIG UTGIVER: Aschehoug
UTGIVELSESÅR: 1968
ER OVERSATT AV: Trygve Width
HAR INTRODUKSJON VED: Trygve Width
ORIGINALENS TITTEL: Agricola, Germania
ISBN: 8203024580
RETTIGHETSHAVER: Stiftelsen Thorleif Dahls Kulturbibliotek
Cornelius Tacitus (ca. 55–ca. 120) er den romerske litteraturs største historiske forfatter. Dette bindet inneholder Tacitus' to debutarbeider fra året 98.
I De vita et moribus Iulii Agricolae («Om Julius Agricolas liv og karakter») skildrer Tacitus sin egen svigerfar, som var en stor romersk politiker, feltherre og guvernør i Britannia fra 78 til 85. Agricolas seier la grunnlaget for Hadrians mur. Verket er et sentralt kildeskrift for 'Roman Britain'. Ved å stille Agricola opp mot Domitian viser det også fremover mot Tacitus' kritikk av keiserstyret. Hensikten har sikkert vært å reise Agricola et æresminne og hylle ham som erobreren av Britannia. Boken er således en vita (biografi), bygget opp som en laudatio (lovprisning).
Det andre skriftet, De origine, situ, moribus ac populis Germanorum, er en beskrivelse av det nordlige Europas mange folk. Boken består av to deler. Den første handler om germanerne i sin alminnelighet – om deres opprinnelse, deres land og seder, skikker og privatliv. I verkets annen del regner Tacitus opp i alt 59 forskjellige germanske stammer, som blir karakterisert ved hjelp av korte historiske eller politiske opplysninger. For oss har boken om Germania spesiell interesse fordi Tacitus her har samlet hele oldtidens viten om de barbariske stammene som er våre forfedre.